Welcome to Fukuoka City!
Welcome to Fukuoka City, one of the most populated cities in Japan (currently, 1.5 million people are living in Fukuoka) and the largest city in Kyushu Island. Kyushu is the third largest island of Japan, located at the southwestern part of the country. Fukuoka is situated at the northern area of the island.
September and October are very comfortable season. Weather information can be available on the following webpage.
http://www.weather-and-climate.com/average-monthly-Rainfall-Temperature-Sunshine,fukuoka,Japan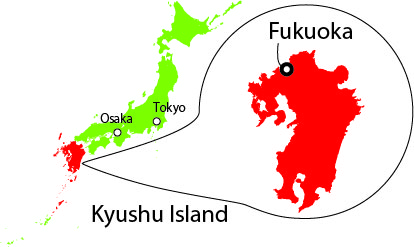 Useful Links
https://www.welcome-fukuoka.or.jp/english/
Food
Ramen (Japanese noodle soup)

In Fukuoka, you can find Hakata Ramen. Hakata Ramen is a very famous noodle soup made of tonkotsu (pork bone broth). We recommend the following restaurants:

Photos (courtesy of Fukuoka City)
more information



Yatai (Food stall)

Yatai is the name of outdoor food stalls. You can find many Yatai in Fukuoka's streets at night time. Enjoy various foods and find your favarite Yatai during your stay!





Photos (courtesy of Fukuoka City)





Photos (courtesy of Fukuoka City)




more information




Food and Drink (including ones of the neighboring prefectures)

In Fukuoka, you can eat many kinds of delicious foods. Especially, seafood is quite good because Fukuoka faces the Sea.
Globefish (Fugu) dishes
Tecchiri: Hot pot of fugu
Longtooth grouper dishes
Sekisaba, Sekiaji (Special mackerel and horse mackerel)


Photos (courtesy of Fukuoka City)

In addition, the Kyushu area is famous for Japanese local alcohol called "Shochu (焼酎)". You can try many kinds of Shochu during the conference.
Tominohouzan (富乃宝山)
Yamaneko (山ねこ)
Sekitoba (赤兎馬)
Kirishima (霧島)
Hyakunennokodoku (百年の孤独)
Torikai (鳥飼)
Nature
Onsen (Hot spring)

"Onsen" is a term for hot spring in Japanese. In Kyushu area, there are famous Onsen spots.




Volcanos

In Kyushu, there are two famous active volcanoes. These volcanoes are also a sightseeing spot in Kyushu.



Tradition and Culture
Sightseeing Spots




Japanese traditional sightseeing spots: Shrines and Castles

Japanese shrines are located near the conference site.

In addition, there are many Shrines and Japanese Castles in Kyushu area.

You can find more castles in Kyushu, here.

Additional Information

Fukuoka City Website

:


Fukuoka's website contains many useful information. Here is some information we think might be interesting for you:

Fukuoka Facts:
Interesting facts about Fukuoka.
Kawaii* ward (8th ward, imaginarily):
This website contains some useful, casual movies about Fukuoka: here
*Kawaii (Japanese language): adjective; cute, sweet, charming, darling, precious
Yokanabi: Fukuoka/Hakata Tourist Information Site:
You can find more sightseeing information about Fukuoka.
Technology
Trains, Shinkansen

In Kyushu area, there are many characteristic trains. You can easily go to other prefectures in Kyushu using these trains. More detailed information can be available from here.





Photos (courtesy of Fukuoka City)



Others
Free Public Wi-Fi Service


In Fukuoka city, you can find many places where you can access the Internet using free public wireless LAN services such as the following:

Fukuoka City Wi-Fi:
Fukuoka City provides a free public Wi-Fi service for every visitor.
Japan Connected-free Wi-Fi:
This application enables wireless Internet access via your phone for visitors to Japan. You can use this application at several places not only in Fukuoka but also in the rest of Japan.



Other attractive places